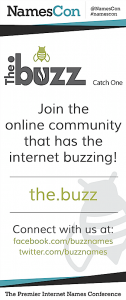 Conway, AR 2/5/2014 — Following an exciting 2014 launch of the new Top Level Domain .buzz, dotStrategy founder Bill Doshier is pleased to announce a new .buzz website rebrand, the launch of the new create.buzz store, and a second consecutive sponsorship of NamesCon 2015, the largest conference dedicated exclusively to the Internet name industry, which kicks off in Las Vegas next week.
.buzz will be presented front and center at the upcoming Las Vegas event. Conference attendees are invited to stop by the .buzz booth, relax with a nice massage, pick up .buzz freebies and be updated on what's buzzing with the introduction of the create.buzz store and The.buzz rebrand.
"In launching The.buzz early last year, NamesCon was a groundbreaking event for us," Doshier stated. "This year, NamesCon gives us the chance to reconnect with business partners and friends, plus display a maturing .buzz website complete with a new look and focus. And of course, offer a nice relaxing massage at our .buzz booth."
With the launch of the create.buzz store, The.buzz registry is focusing sharply on providing registrants the platform to create buzz within their chosen community. The store provides a very simple method  to register a .buzz domain name – in just a few quick steps.  Additionally, a number of additional buzz-creating services are on tap to be introduced through the create.buzz store later this year.
NamesCon will be held January 12-14, at the newly redecorated Tropicana Las Vegas Resort. Conference organizers are expecting up to 1000+ domain name industry attendees.
Conference passes are still available and the Tropicana Resort is offering a special rate on rooms for conference attendees. You can find additional information at the NamesCon website at: www.namescon.com .
Visit The.buzz at: www.the.buzz. Or the create.buzz store at: www.create.buzz. Contact The.buzz founder Bill Doshier at: [email protected] .