Create Buzz LLC has announced the launch of a new Author BuzzPage – CannabisManifesto.buzz – to support the upcoming launch of the book 'The Cannabis Manifesto', by Steve DeAngelo.
The Author BuzzPage is a managed website service from Create Buzz, to accelerate the buzz and popularity of authors' new book releases.
With almost four decades of activism and advocacy in the cannabis reform movement, Steve DeAngelo has been featured by The New York Times, The Washington Post, CNN, Associated Press, The Wall Street Journal, NPR, The BBC Fortune Magazine, and now Create Buzz.  His creation of a model medical cannabis dispensary- Harborside Health Center- and his lifelong cannabis activism coupled with his extensive knowledge in this arena has made him one of the most respected speakers in the cannabis and hemp industries.
The book, available September 22nd through the new CannabisManifesto.buzz Author BuzzPage,  is DeAngelo's call to action and radical vision of humans' relationship with the healing yet controversial plant. The book answers essential questions about cannabis, using extensive research to fuel a thoughtful discussion about cannabis science and law, as well as it biological, mental and spiritual effects on human beings.
"This book is designed to legitimize the value and importance of cannabis on a global scale, help people understand how to use cannabis as part of a total wellness lifestyle, and support cannabis reform" said Create Buzz CEO Bill Doshier.
"I'm excited to put our flagship service The BuzzPage into action for this new book release, to support the pioneering work within the cannabis community. We're excited for Steve and his book launch, and wish him the best.   We'll be there September 22nd, promoting 'The Cannabis Manifesto' and working to drive awareness of the book." Doshier added.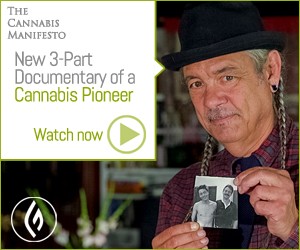 Create Buzz, partnering with Green Flower Media (www.greenflowermedia.com) and others, is working to help  'The Cannabis Manifesto' become the first cannabis book to ever reach the New York Times Best Seller list.
Pre-launch, an amazing 3-part mini-documentary series covering the untold story of Steve DeAngelo, is available now and can be viewed here.
About the Author, Steve DeAngelo
Steve DeAngelo has almost four decades of activism and advocacy in the cannabis reform movement. His vision and leadership have been featured by news teams from around the globe including major news outlets in the United States, France, Australia, Canada, Japan, Germany, and the United Kingdom. The media has featured Steve DeAngelo's landmark and 'gold standards' Harborside Health Center in their coverage in the emerging cannabis industry. It is a place where safe access, compassionate and responsible use and lab tested high quality medicine is offered to patients in great need of relief from a wide range of medical conditions. Patients come first at Harborside.
About Create Buzz LLC
Create Buzz LLC, in partnership with the .buzz Domain Name Registry, provide The BuzzPage, a managed website service. The BuzzPage promotes the work of creative entrepreneurs – authors, musicians, independent filmmakers, actors, and entertainment professionals. Optimized for mobile devices, fans can experience the creative entrepreneur's best work immediately, and accelerate its buzz and popularity. More information on this managed service can be found at www.buzzpage.buzz